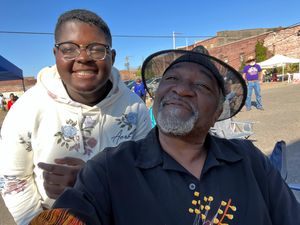 The smile on this young man's face says it all.  I love inspiring young people, seeing the joy in them when they get around music. You never know, He could be the future of  Blues music. Once it gets in them, it inspires them.  
  He reminds me of myself. When I was his age, I was so inspired by music. Look at that smile on his face. This is my friend Big Nate. I called him Big Nate. He came onstage with me and the band " The Chickenbone Reunion" in 2016 and threw a cape on my back and played washboard. I got him involved in the show. To get a chance to get on a big stage. That was special . It lit him up. The crowd loved it .  
   He came up to me and said " Hey Mr Patton it's me Big Nate remember me ? It went all over me. I just love seeing him again. His mom said he was struggling with his schoolwork. Sometimes his grades weren't as good as she would like them to be. That was the first thing I asked him. I said"  Nate, how are you ? How are those grades in school ? "  Great. He said, " They're doing better ".  
I told him  Nate always do great. In school and on the stage.   He said he was learning to play an instrument now. That is going to be a sight to see. I look forward to watching him grow up and develop. 
 Not only him but all our kids need an avenue to express themselves . It doesn't have to be drugs or the streets. Music opens up a lot of avenues for expression. I love to see kids choose the high road like Bluesman Big Nate .  
  Nate can play the washboard too,  in fact I made him one and put LED lights on it.  It's sharp. Someday I will give it to him if he continues to do well in school .   
  Seeing him  was one of the highlights of my weekend . Don't you like to see kids inspired by music ?  Do you know any kids who are inspired by the music.