Bro Ric Patton & ChickenBone Reunion Band -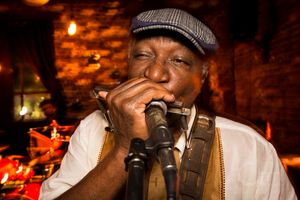 ( Download Images )                                  
 http://www.AlabamaBluesMan.com/files/BIO_PICS.zip
Brotha Ric Patton Biography
Ricky L. "Brotha Ric" Patton, Sr. was born in Swancott, AL. and raised in Triana, AL.  He is the grandson of the bluesman and whiskey man,
" Paper Thomas Patton ".  
   As a youngster Ric grew up around his Uncle Johnnie Rice.  Johnnie was a hobo,ex-con and harmonica player who loved drinking bootleg whiskey.   Uncle Johnnie would often stick his harmonica soaked in whiskey in Lil  Ric's mouth causing it to burn and Ric would find himself blowing and drawing (aka blowing and sucking) on the harmonica.  This was the beginning of Ric's life as a guitar and harmonica player.
  In an interview Ric says, "Playing the blues is nothing I found, it found me. I have been doing so long, I just do it.  When I play and sing it's like painting a picture with live people in it.  I have fun and amuse myself with the paint and sound; I think thats what folks enjoy about my blues, I play it in a mix color way.  
  Ric Patton handles his harmonica like a grand Master of Southern Blues. Ric sings, writes and blows his feelings clean thru his harmonica like only a true Southern Bluesman can.
  He is a great songwriter. He writes about life's journey down the Blues Highway. Ric says things that many people think but never say out loud, about who we are and where we stand and where the times are taking us too.
   On September 28, 2015 Ric discovered live streaming on Periscope. creating his own fan club called the "Blues VIPs" = Very Involved in Promotion, in hopes of building a blues crowdfunding community.  He broadcast nightly at first from his 1971 Ford Van which he refers to it as the "Blues Room"  He now broadcast from the old family home built by his grandfather "Paper" Patton called "The Blues Room II".  He lives stream nightly, his fans join him while chatting with him and each other.  He has since made his own recordings highlighting the broadcast and his followers.  He currently has over 12,000 followers.  
In 2016 Ric appeared at the Delta Cultural Center, Helena, AR "Front Porch Blues Bash"; and since 2018 he has been hosting the DCC "Front Porch Blues Jam", when the museum found themselves without a host for the annual jam  he was the perfect MC during the annual King Biscuit Blues Festival.  He has also performed on the festival with his band "The Chicken Bone Reunion Band" in 2017 and 2019.
Ric's band, the "Chickenbone Reunion Band", band members are Ric, (vocals, guitar, harmonica), and Mac Barnes (bass), Chip Freese (rhythm guitar) and Lurch (Drums).  Ric mostly plays solo and bring along kazoos, a shaker, washboard, hula hoops and ask for help with these instruments from his crowd. "What I do is plain old Southern Style Funky Blues" says Ric.