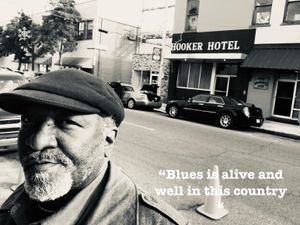 Doing a consistent email campaign to stay in touch with my fans has been one of my biggest weaknesses. For years I have thought about it. I've even tried it on and off. But I've never been consistent about communicating with my fans. That is so crazy. Especially knowing how important it could be.  
  Several years back I started writing a paper called The Book of Billy. The title came from meeting a blues artist in Mississippi Delta. The guy did a great performance. He offered to sell me a CD. I didn't buy it that day. I walked away. And I made notes about what I had just witnessed.  
  When I walked away, he didn't get my email. He didn't make any effort to add me to his fan list. And I thought about how many people he let walk away and I thought about how many people I let walk away and the difference it could make in my life if I were to communicate with them consistently.  
  So I asked myself the same questions everyone else asked. How often should I communicate with them? What do I need to say to them? How much is too much? What if they get tired of me? Would they consider me being pushy? I don't want to come off like selling something all the time. What am I to say to them? These types of questions go around in my mind .  
  So far just questions going around and no answers. My good friend VIP Kevin Fitch . TheDallas Blues man. And Ward Miller, both Texas VIPs, have been encouraging me saying that they would love to hear and see a consistent email campaign from me. They love my music. They've been following me for several years. But they feel that email communication could be one of my weaknesses. So I'm making an effort to turn that around.  And make email one of my strengths. This is the beginning of that journey.  
  How much is too much?  Ward and Kevin suggested that I emailed them every day. I can't see any reason why I wouldn't do that other than, Is that too much? I live stream  seven nights a week. This way it just goes hand in hand. They already receive notifications from me when I go live. Why not receive another notification from me?  
I don't know the answer to that. I'm sure I could do something every day because right now I do nothing every day. It takes just as much effort doing nothing as it does to do something .  
  I sit here today and sort out my ideals and plans of how to get this started . I've never been on anyone else's email list. No other blues artist is sending me consistent email communication. So doing that already puts me in a world  removed from many, not many people you could have this discussion with because they don't do it.  
  So today I sit down to be honest with myself and you and write out my ideas about starting an email campaign. What would you like to see? What would you like to get from me?  I appreciate your response.