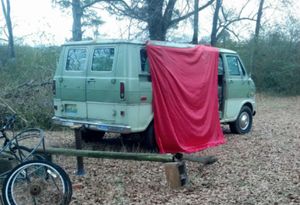 Good morning blues world. Living out here in the country is nice. Beautiful early in the morning, the dew on the grass, sun coming up. It's really nice. I love it. But the biggest shortfall is the internet service out here. It ain't worth shit. I've been dealing with At&t Internet for years and years, and they keep promising to upgrade this area. And so far, they've done nothing. 
   My little community, called Swancott Alabama, got annexed into the Huntsville city limits. And I'm just hoping  that eventually the Huntsville city limit would service the entire city limit with good broadband cable. So far, they've done nothing. So I'm calling at&t today. Again, let them know how crappy this service really is. And they charged me $60 a month for it. It goes on and off. whenever it wants to. It's crazy. It drops out everyday. And then I'm only able to get 25 megabit and maybe one or two upstream which is really not much for my live streaming. I'm struggling with it. 
   But what really bothers me is the children living in this area and having to do their schoolwork on this crappy internet compared to the high speed cable networks in most neighborhoods is a big difference in those children's ability to do their work. I think it's very unfair. And yet the government or whoever needs to step in to provide broadband internet to everyone. 
   I tried a hotspot. Moxie from At&t. It was crap also. Down here in the south. I guess it's just crap. Spread out. Crap. And VERIZON I can't say they are any better. They promised to provide 5g broadband internet . I don't know where they provided it is definitely not in my neighborhood. When I looked at the Verizon map. I didn't see broadband anywhere in Huntsville, Alabama. But I did see they serve Birmingham. It's a damn shame. 
 One of my friends, Mr. Freeze suggested I look at Starlink, which I did. Starlink is not available here in Alabama and costs $99 a month but the satellites have fallen from the sky. Hughes net. I can't comment on it but  three megabit upstream seems like I might be asking for more trouble. I'm tired of dealing with this broadband internet bullshit. I have to find a better solution. What do you think? Any suggestions ?