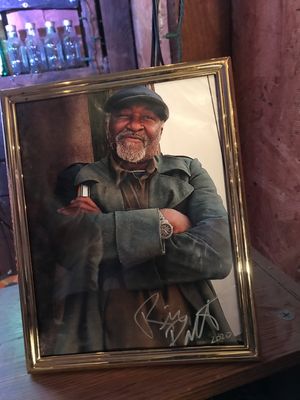 I had a chemistry set as a kid. I loved mixing chemicals together. A little bit of that, a little bit of this and coming up with new shit. And I'd mix this and make that. I spent many hours mixing things and experimenting with things. It was good for my inquisitive young mind. I think I'm still that way. I love mixing and experimenting.  
   I'm inquisitive. I love to see ideas unfolding, new things that come out. But now chemistry is among people. I love mixing and matching the people together to see what comes out. I have always been kind of a pioneer. Spent time to myself. I love being creative and seeing new things. I have always been that way. It's unusual for me to be bored. Some people say. " I am so bored". I don't ever recall myself saying that. 
   My grandmother used to say when I was a kid, " Boy you keep something going on all the time." she would say,  "Go find you something to do, an idle mind is the devil's workshop". She was trying to tell me to keep something to occupy myself. Keep the focus outside of myself. That way, I could avoid being depressed or feeling down because my focus would be on being creative. I've been that way ever since. 
   And as a result of that I truly enjoy my life. I do enjoy myself. It might be strange to say but I have no problem with being creative. I feel that it's wrong to hold myself back. When I have an idea or some type of project comes to my mind. I feel that is wrong if I don't express that idea to my GOD, I feel like I'm helping out my Creator  to carry things out and get the work done. I know that might sound crazy, but this is one of my big motivations. The fear of not doing things. So I'm afraid not to express myself and do new things. That gives me power. My reason for action.  
  My reason for going into crypto is that I see it as a way to unify people. I can see it as a way to help them do the things. To keep that focus outside themselves. Give them something to look forward to. To do this they must be creative. So it seems as if by helping myself, I'm helping others. I know that might seem crazy, but my motivation for the crypto is You. What do you think about crypto ?