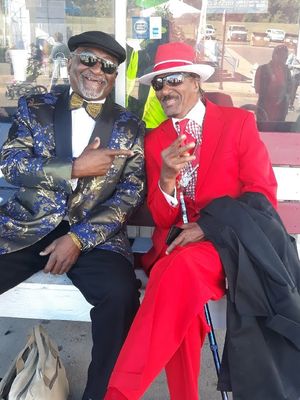 I made it to Helen Ar. Took around 6 hrs to drive in for me from Al. I'm excited about this 2022 King Biscuit Blues Festival.  I've been looking forward to playing on this one fresh out of the pandemic.  
   I love playing with this man O.G. Fillmore Slim. Mr Filmore is the original gangster, a real pimp. I'm so tickled to have met a real pimp in my life. His stories are incredible . He talks just like his book. Clarence Sims is his other name. You might find some of his stuff on YouTube.   
  Fillmore is also a friend of Rick Estrin, a harmonica player whom I really respect and admire. I enjoy Rick Estrin's harmonica and songwriting style. When I mentioned him to O.G Filmore he said. "  I taught Rick everything that he knows.''  I was killing myself laughing because I can see flashes in their styles.  I'm delighted to have an opportunity to play with them. We've got two shows together this weekend here at the King Biscuit.