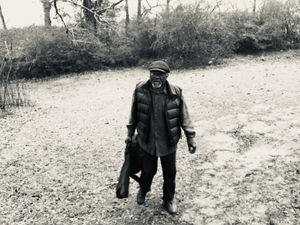 I was out doing my walk and laughing the whole time. People asked me every day about these social tokens. The biggest question I get is: How much are they worth? It? It is so funny when I tell them that they're worth nothing. Yeah, I've got 10 million of them, but they're not worth a damn. They're not worth anything. I tell them they aint worth shit ! But I'm willing to share some with you. That is so funny to me.  
  To be able to share nothing with my fans. Yeah I was just thinking about sharing nothing. Then I smile and imagine turning them into something. Wow. 
  Back in the day, when people made albums and cassettes I was offered a job working with a record company as a street team promoter rack job, my job was to stock records, put up posters and pass out flyers and help promote events in the area. I didn't take the job. I couldn't do that at that time. But I understood the assignment. Just promote the records and events that come to town. My friend William took the job. He would be working at the Civic Center, or he would put up posters and pass out tickets at the beauty shops, he was actually involved in promotion with the promoters. He got FREE tickets to the shows. It was a street team activity.  
  When I think of the $BVIP group, that's what I imagine it being. It's a giant street team that helps promote events, online and offline events. I could imagine that if these promoters were compensated with this $BVIP token  the possibility of that token increasing in value could be great. 
   Think ahead a year from now, two years from now. Imagine hundreds of people, maybe thousands holding  these tokens. And imagine that they are worth something because the things that we all promote have become worth something.  The tokens are tied to the blockchain. That means they won't disappear. Imagine being a part of it. No matter how small. And I can also imagine not being a part of it. That's funny to me. Just so funny. It's a beautiful day . Enjoy it !