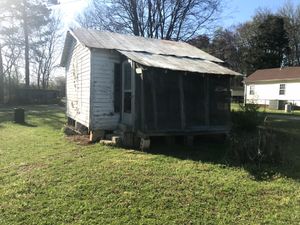 I don't know what got me thinking about homemade wine. I can taste it now. I love the taste of homemade wine. Especially blackberries. I also like muscadine and some apple wine. I just love the taste. I wish I had some right now. I have two quarts of apple wine I've had for 20 years sitting here in the house. I've had it for so long I'm afraid to taste it. I got a recipe book around here somewhere. I got to find my recipe book.  
  I think it will be a good year to make homemade wine. I can remember some of my home folks had wine stashed up under the house. In the fall and early winter, Mr.Grays would get one of us kids to crawl underneath the house and pull it out. 
   My grandma made homemade wine for years. I can recall when the time of the year came. I'd be sleeping in bed and she'd be pecking on my bedroom window. The window would be up. I had a screen on the window trying to catch air. We didn't have any air conditioning. My grandma would be scratching on the screen telling me,  "Get up boy get up come on,let's go pick some berries". I hated that. Her getting me up early in the morning like that. But I'd get up and go with her. 
   She gave the hoe to me, I put on some long sleeves and we'd go out into blackberry bushes and pick berries. We carried a hoe to pull vines or kill snakes or whatever we saw. Sometimes we'd get two or three bowls full of blackberries. Then we wash them. I was eating them. 
   I don't know why she let me do that with her but I'm glad she did because she put that taste in my mouth.  Eating those berries and washing them and then she would put them in the jars and mash them up and get the juice out. She'd make several gallons. I can see them sitting on the table. They were deep purple and so pretty. Those jars were full of wine. She'd put something over the top of them like a cloth. 
  Every once in a while I would ask her, "is the wine ready"? And she said no, it's not time yet. But when it was time she gave my dad a few quarts and gave each of her son's a few quarts. It was delicious. And of course I'd get a little bit for helping out.  I learned how to do it on my own. I know how to do it now. It's been a long time. But I'm getting that taste in my mouth.  
  Looks like spring is going to come early this year. We've had quite a bit of rain here in Alabama. I believe those berries are going to be good this year. I can taste it now. Do you like homemade wine ?