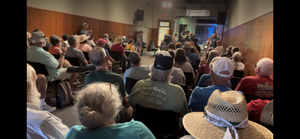 Great weather today at the Front Porch Blues Bash. A Beautiful day in Helena, Arkansas. Terry Big T Williams  running sound. Big T came in early and had everything set up. All the mics ready. Instruments were ready to go.  
  There was a box of masks at the front desk, but no masks were required. I was surprised at the number of people who came in with masks on but decided to take them off. I've seen people second guessing and struggling with the thought of wearing a mask or whether they should or not. Maybe the pandemic is over at least lots of people are trying to make it seem that way.  
  The porch jam was a lot of fun. We had plenty of surprise guests today. All kinds of talented people. 
   I'm the host of this big open mic event where we have plenty of surprise musicians coming up. Kyle Miller the Director of the Delta Cultural Center stopped in . As well as Carla Robinson from the DCC came in and sang a song . Big thanks to those people at Delta Cultural Center for having us . 
 We had a variety of musicians. Harmonica players and guitar players, singers and drummers. At one time we even had dancers on the floor doing their thing.  
  Thanks to everyone who came. If any of you have any videos or audios recorded of the event, please link them in the comments below .  Thanks . Let's keep the Blues alive . Leave a comment . What did  you think ?