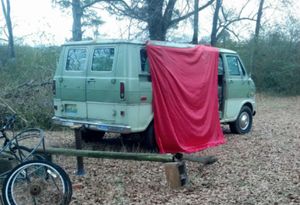 Well it's time for a van makeover. This van has been sitting here for five or six years. No I do not live in it . It's not bothering anybody but it is sitting in my way in the side yard. It has had several lifetimes already. It's been a great vehicle. I might use it to advertise, you know, put my band name on the side or something. I hate to sell it. It's been good to me.Vans are so handy. 
    When I started live streaming, I was live streaming in the back of this van between my house and my mom's house. I turned the van into a portable studio to livestream from. It's a good work truck and it's also good for storage. It's just fun. Sort of like a toy. 
   I've had a long time. Since back in the 90s. Sometimes I do weekend projects on it. It is definitely an antique eye catcher. Yeah, A toy, that's what she feels like. It is good for local work. I ran it for the hot dogs stand, I used to repair VCRs and go to the flea market in it. You know vans are just great to have. Of course it needs some work, but not as much as it seems. I've already done quite a bit of work to it. I believe it just needs cracking up. 
   I've used it for many things. And maybe I'll use it some more. Very soon I'll crack it up and move it. What do you think I should do with it?