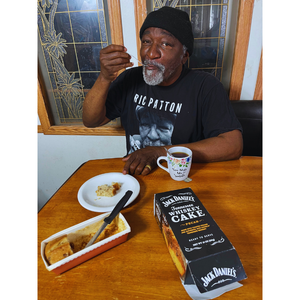 Diabetes and weight issues all around me. Lots of my family and friends have health issues, overweight and diabetes. Several years ago. I had to pack a lunch box every day to take it to work. I did this for around five years. I worked outside at that time. I was in the best of health. I got a lot done during those five years because I felt good. My mother used to always say, in order to do good, you need to feel good. 
  That lunch box helped me be mean and lean, having a good weight. Plenty of energy and strength. Eating good food and watching what I ate. 
  I've tried to start an exercise program for myself, walking. I try to keep walking, it takes discipline to keep going because very few people around me do it. My family and friends don't exercise. Unless they do it in private. Very few of my neighbors exercise where I live. Sometimes I see them walking for a day or two and then they stop. They'll start and start. Some of my friends will tease me when I'm out walking or they'll stop and talk and they say, " I should be out there, I'm gonna join you", but they never do. Because of that, of course, lots of them are out of shape.  
And I ask myself . I wonder why not. So why wouldn't I try to exercise in some way? So I keep getting it. Keep on keeping on.. 
   I'm getting older now. I'm 64 and I feel good. It just makes sense to keep going. 
 So I got on the scale.  I was surprised at what I found. I had gained two pounds. But I have been dropping some weight that I don't need to carry around. It makes sense to measure the weight, getting on a scale to pay attention to what I eat and to exercise, it just makes sense. And it's funny sometimes. 
  I saw those two pounds. And I thought about where the hell did that come from? Maybe it was those spaghetti.  I don't know. But I'm gonna be watching it. How about you ?